VQ Awards
Celebrating Vocational Achievement
Welsh stars shine at Vocational Qualification Awards ceremony
A Vocational Qualification – VQ award is a symbol of dedication towards your chosen profession. The awards help us to celebrate those Welsh learners, trainers and employers who are already going that extra mile when it comes to developing vocational skills and qualifications. Hundreds of thousands of vocational qualifications are granted every year and despite this number being substantially more than the number of GCSE's and A-Levels awarded, VQs receive significantly less attention.
If the Welsh economy is to continue to grow then we must ensure that individuals, training providers, employers and the Welsh Government work together to invest in the right skills for success in order to equip Wales with a world class workforce.
Inspirational stories of success were celebrated as a Merthyr Tydfil engineering graduate, a Flintshire higher apprentice, a Cardiff and Vale College lecturer, and a Llanelli manufacturing company collected Wales' Vocational Qualification (VQ).
A dozen finalists were shortlisted for the awards that recognise star employers, learners and trainers across Wales who have used technical, practical and vocational qualifications to achieve success.
Now in their 11th consecutive year, the VQ Awards were held at The Exchange Hotel, Cardiff to coincide with VQ Day.
Designed to reward individuals and organisations for their commitment, hard work and achievements, the awards are organised by the Welsh Government in partnership with the National Training Federation for Wales (NTfW), ColegauCymru / CollegesWales and Qualifications Wales.
VQ Learner of the Year
Intermediate 2018
Brandon Jones
WINNER
Engineering graduate experiences life in fast lane
The VQ Learner of the Year – Intermediate Award went to Merthyr Tydfil Engineering graduate Brandon Jones. He has helped students from Cyfarthfa High School in Merthyr Tydfil experience life in the fast lane by leading them to the national final of the F1 in Schools Challenge at Silverstone for two years running. Brandon took on the role of team leader as part of his Welsh Baccalaureate Community Challenge whilst a student at The College Merthyr Tydfil and graduated last year with a double distinction star in Engineering. This year, he has helped the school again whilst studying Product Design at Cardiff Metropolitan University.
Martin Thomas, A level physics and BTEC Engineering tutor at The College Merthyr Tydfil, described Brandon as an "inspiration to his fellow students".
Sophie Appleton-Hendy
Sophie committed to inspiring others
Hairdresser Sophie Appleton-Hendy, who works for Tommy's Hair Company, Llandudno, won a gold medal at the WorldSkillsUK in 2017.
Having achieved Foundation Apprenticeships in Hairdressing and Barbering and an Apprenticeship in Hairdressing, Sophie is now working towards her level 3 Barbering qualification with training provider ISA Training.
Sophie is passionate about competing in hairdressing competitions and not only competes but helps others to achieve. She believes that hard work, dedication and commitment to perfecting skills is essential to the role of a good hairdresser.
Adam Griffiths
"Exceptional learner" Adam focused on rewarding career
Described as an "exceptional learner", Adam Griffiths is totally focused on developing a rewarding career with Rhondda Cynon Taff County Borough Council's Strategic Projects Team.
He's working towards a Higher Apprenticeship in Construction and the Built Environment (Civil Engineering) through Bridgend College. Previously, he achieved an apprenticeship in Civil Engineering for Technicians, a BTEC Level 3 Diploma in Construction and Built Environment and Essential Skills Wales qualifications.
VQ Fact
The need for Tech specialists in Wales is expected to grow by 25% between 2014-2024.
VQ Learner of the Year
Higher 2018
Ethan Davies
WINNER
'Role model' Ethan has the competitive edge
The VQ Learner of the Year – Higher Award winner was Ethan Davies, described as a "model apprentice" by his peers. Through hard work and continuous learning he has become a role model for young apprentices. The 22-year-old has matured into a key member of staff at Electroimpact UK Ltd, in Hawarden, Flintshire through vocational education.
His competitive edge is steering his career path, having completed his Higher Apprenticeship in Engineering Manufacture Level 4 at Coleg Cambria whilst training to compete in WorldSkills as a part of the successful UK squad.
"My competition experience has enabled me to bring up-to-date, world-class skills to the company that have been a proven benefit to production over the past few years," said Ethan.
The award completes a hat-trick for Electroimpact UK Ltd, who last year won the VQ Employer of the Year and VQ Trainer of the Year Awards.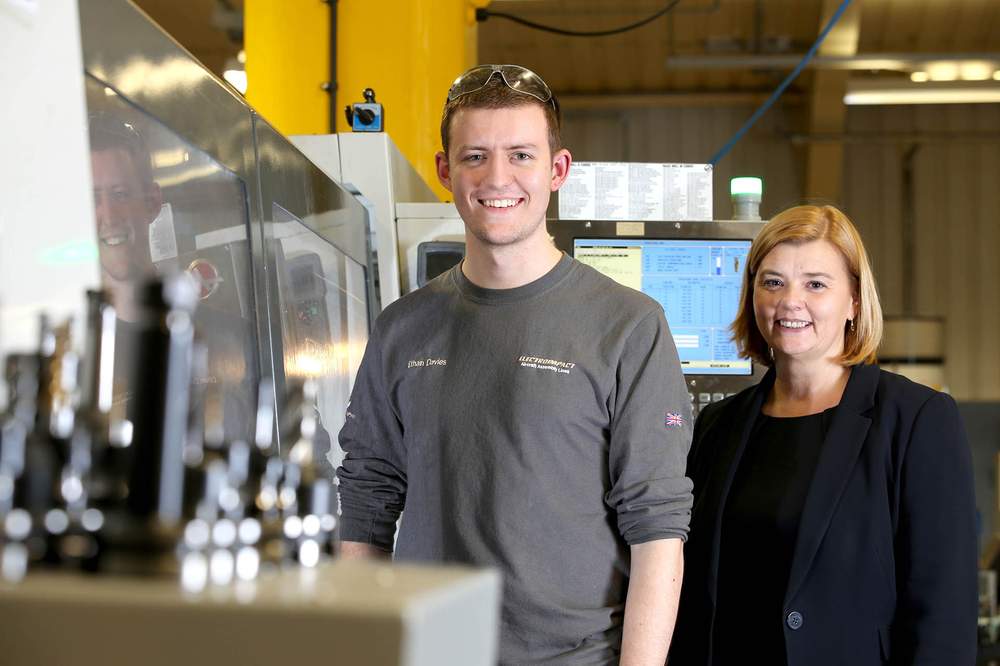 Kieran Hunt
Age is no barrier for fast learning Kieran
Kieran Hunt is a young man on a mission who has defied his years by becoming the youngest person from his training provider to complete a Management Level 4 course.
"This qualification has not only helped me improve my skills and understanding but it also proved that age should not be a barrier to complete a higher level qualification," said Kieran.
Laura Beale
A 'Flying Start' leads to £660,000 project
Apprentice Laura Beale has made a 'Flying Start' to her career after making an immediate impression on her employer.
Whilst studying for a Level 4 Diploma in Project Management, Laura prepared a detailed business case for Carmarthenshire County Council to secure £660,000 for a new Flying Start Early Years Children's Centre in Trimsaran, Llanelli.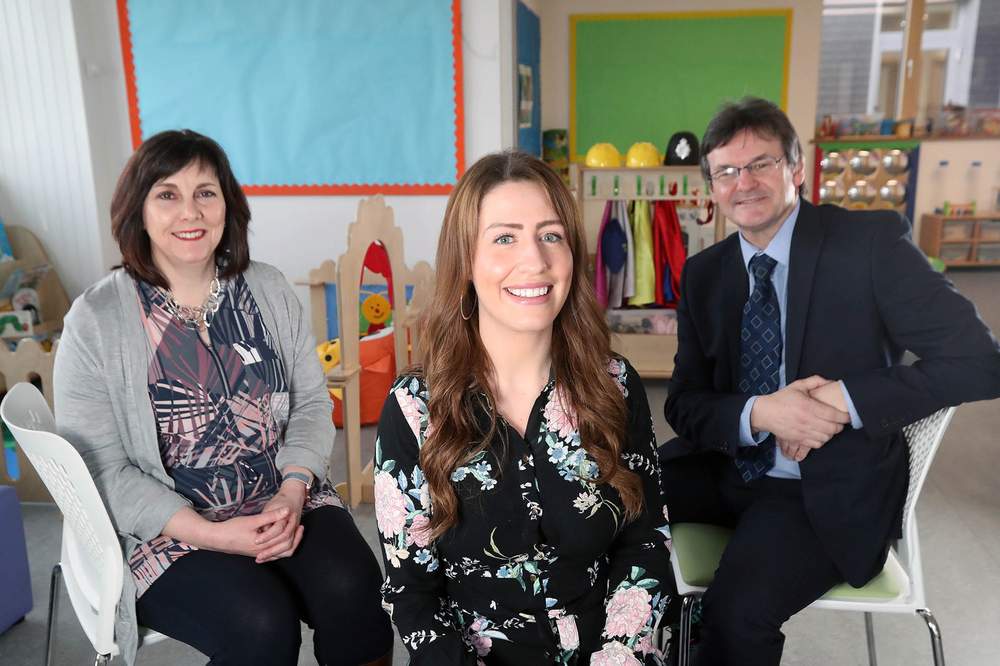 VQ Fact
Employers in Wales were significantly more likely to have trained their staff at Level 3 or above (74%, compared to a UK average of 65%). This is a positive sign, indicating that employers are training staff to a higher level than they were previously.
VQ Trainer of the Year
2018
Tom Jones
WINNER
Tom uses experimental learning to engage with students
The VQ Trainer of the Year Award winner was Tom Jones, a lecturer at Cardiff and Vale College, who champions experimental learning, often using body armour and army uniforms to get over a message.
Many of his 14-16 age group students may not have seen a classroom for months so engaging them requires a different approach. The fact that he has gone through his own dark days helps him relate to his students.
A damaged spine whilst training for the Royal Air Force left him in a wheelchair, with a history of operations and deep depression.
"I spent my first year teacher training in a wheelchair, the second on crutches, and the third barely walking," he said. "I now run a cadet programme and hope my students can relate to me."
Gwenno Jones
Understanding and respect at heart of Gwenno's training
Treating each learner as an individual with unique training needs is at the heart of Gwenno Jones' success.
Gwenno, a former physics teacher, helps develop mutual understanding and respect, a key step in coaching and mentoring teachers that has seen many of them gain promotion.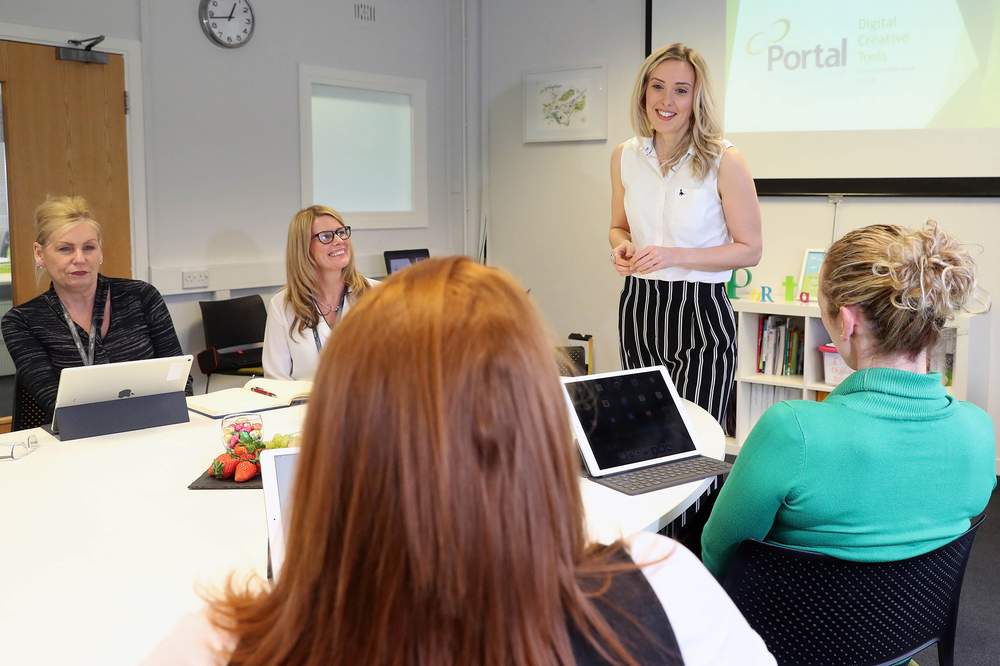 Working for Portal Training, based in Cardiff, bilingual Gwenno also mentors new Portal Training assessors.Gwenno said: "I am passionate about learning; differentiation in approach is vital to ensure success."
Sue Jeffries
Sue goes the extra mile for media apprentices
More than 30 years' experience in television and media was Sue Jeffries' 'qualification' for starting up her own training company that now specialises in three media apprenticeships in roles ranging from costume to special effects.
As managing director of Sgil Cymru, embedded in the industry at its Pinewood Studios base in Rumney, Sue acts as lead assessor across media apprenticeships at levels 3 and 4. Sue recruits industry experts as freelance assessors to deliver flexible training, building the schemes around employers' production schedules, meeting the demands of television production across the BBC, ITV and other independent companies.
VQ Fact
Around one in seven (13%) skill shortage vacancies were ascribed, at least in part, to a lack of oral Welsh language skills and 12% were ascribed to a lack of written Welsh language skills.
VQ Employer of the Year
2018
Gestamp Tallent Ltd
WINNER
This year's VQ Employer of the Year Award was won by Llanelli automotive manufacturer Gestamp Tallent Ltd which is reaping the rewards of investing in training and developing its workforce. Since taking over the Llanelli business in 2011, Gestamp has transformed its fortunes by investing in the plant and its people. The company is a key supplier to automotive customers including Jaguar Land Rover, Bentley and Honda.
From apprenticeships to undergraduate and compliance qualifications, Coleg Sir Gâr has supported the company and each of the 428 employees has an individual, tailored development plan. "Achieving vocational qualifications and training are at the forefront of our business," said Victoria Adams, the company's training manager. "Promoting the personal and professional development of staff enables us to fulfil our other business objectives."
Little Inspirations
Little Inspirations a 'shining example' to other nurseries
"Little Inspirations is a shining example of how a nursery should run and how staff should be engaged in apprenticeships" says Kristina Brockaway, customer account manager at Vocational Skills Partnership (Educ8), who nominated Llantrisant-based Little Inspirations for the VQ Employer of the Year Award.
The company has grown from 70 employees to more than 100 in five years and now has six nursery sites. Eighty per cent of the workforce is either working towards or in receipt of qualifications.
Tai Tarian
Housing association develops new multi-trade apprenticeship
Demands by tenants for a "first time fix" rather than multiple visits by different tradesmen to complete a task prompted Neath-based housing association Tai Tarian to work with NPTC Group of Colleges to develop a new apprenticeship framework.
The Maintenance Multi-Trade Apprenticeship is designed to meet the needs of the maintenance industry. Tai Tarian has found that the apprenticeship has increased productivity, reduced costs and encouraged employees to work smarter. The housing association supports staff through from Traineeships to Apprenticeships and Higher Education courses.
VQ Fact
Have you ever considered a career in Manufacturing? 7% of the workforce in Wales is employed in the sector. This is higher than the percentage for the UK as a whole.
VQ Day
In addition to the award ceremony, learning providers across Wales were encouraged to organise regional events that engage with learners of all ages on VQ Day.
Vocational qualifications are important to the economy, companies and individuals, as they deliver the trained, talented employees that businesses are crying out for and ensure young people have the skills needed to succeed in education and work.
Minister for Welsh Language and Lifelong Learning, Eluned Morgan congratulated the winners and finalists: "It's evident that a VQ award is a symbol of dedication towards a chosen profession, demonstrating to others a real commitment towards personal and professional development," she said
"The awards help us to celebrate those Welsh employers, learners and trainers who are already going that extra mile when it comes to developing vocational skills and qualifications.
VQ's have never been more important to the economy and the individual, as they deliver the trained, talented employees that businesses are crying out for and ensure individuals have the skills needed to succeed in education and work."
Want to know more about VQs?